If you don't immediately think of Ms Miranda Priestly at this point in time, then we need to talk.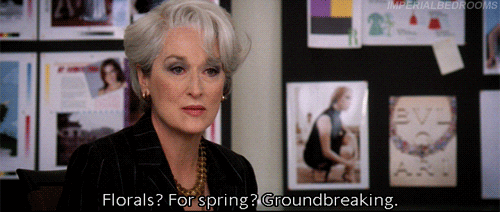 Florals in Springtime are everywhere, whether they be blooming in fields or across retailers everywhere. They are classic, feminine and super chic. Also they are easy. You don't have to put in too much effort when it comes to florals because the effort has already been made in the print. Plus, I find that florals can be timeless.
For example, this dress that I'm pictured in is an old New Look dress that we've had for over 7 years (maybe even 10!). Yet it still works for this season. Tiny floral prints are definitely up my street. There's something extra delicate about them. I also find with this kind of look, I can dress it up or down. Pairing this dress with a pair of slides and a mini bag, maybe even a wide brimmed hat, is perfect for a warm day.
With floral print sundresses, tops and even accessories flowerful, I thought I would round up my favourites for the Spring Summer season, from high street to high end!
How are you wearing florals this Spring Summer? Also, what are you favourite full bloom pieces right now? I'd love to know.