IMAGE CREDIT: HARPER'S BAZAAR / WARNER BROS. PICTURES
We all love to indulge in fashion. If you're here, I hope you are! Some of us are better than others; we have smart shoppers and then shopaholics. I have my days where I am both. Sometimes I buy things that I definitely do not need but I think they look cute so there it is in my wardrobe. We've all had those moments of weakness which then lead to that piece may be not being worn as much as it should be or being left to hang or sit at the back of your wardrobe.
When trends change from season to season, month to month, we try to keep up instead of honing in on our own personal style, which isn't a problem per se. There are people who have versatile styles, wear anything and look fabulous and that's there style. But there are also people who have a set style and then take the plunge on a trend that may be out of their comfort zone but they love, then it doesn't work for them and the pieces they bought to try just end up collecting dust after one or two wears. It's completely normal for that to happen. I've seen influencers who've been in the industry for years who have tried out a trend and only done it once, then proceeded to regret the idea of doing it in the first place. It's only natural, we're human.
In the situation that we're in right now, and I'm going to try not to talk about it as much because it's a trying time and this space is meant to help for distraction, we've got a little more free time on our hands. And this time could be perfect for reorganising your wardrobe, clearing out and defining your style.
Here are my tips for doing it:
IMAGE CREDIT: COSMOPOLITAN / WARNER BROS. PICTURES
1. Start by organising
The first thing you want to do, before you even get to it, is organising your wardrobe the way you want it. Whether it's by categories, colour, occasion, season - whatever it may be, just make sure you can see your wardrobe clearly, the way you originally wanted it to be laid out. Fold everything nicely or hang it up, just make sure the thing is clean.
2. Once organised, go to the category that's most packed
You're always going to have one thing you're going to buy more than others. For me it might be pyjamas if I'm completely honest, whereas for my mum it's denim. She's got a bunch of denim, more than any person ever needs and when we cleared out her wardrobe last, that's where we started. (If you wanted to know, she still has a great deal of denim after the clear out). Go through that major collection and pick out the pieces you know and love, the ones you wear without fail. Create separate piles - keep, maybe, charity/throw out. This way it makes decisions a little easier. When it comes to the 'maybe' pile, that'll be ones maybe you haven't worn yet or much at all but still love. Take the time to think about how you can wear them, in what ways can you style them, can you see yourself wearing them more than you do already? Make all those stricter decisions. If they are perfectly brand new and you don't see yourself wearing them at all, then sell them or give them to a loved one who might get the use out of it that you didn't.
IMAGE CREDIT: ACORDABONITA.COM / WARNER BROS. PICTURES
3. Ask yourself, 'is this my style?'
This is probably the best question you can ask yourself throughout this process. Think about why you bought something, why it's in your wardrobe, are you getting the cost per wear out of it, are you really wearing it because you like it or because it's a current/past trend? Look around your wardrobe and see what the pattern is; maybe it's tones and colours, or maybe it's certain styles or looks. Maybe you buy similar pieces but in different colours, or maybe you buy one-off unique pieces and your wardrobe is an array of beautiful difference. Make that choice and say to yourself, "okay, these are the things I love and wear the most, these are what make me feel my best and most comfortable, this is my style". That's not to say you can't keep those pieces that don't fit, but if you are keeping pieces that are a little more out of your regular zone, make sure you're keeping what maybe has more sentimental value or you know for a fact you're going to wear anyway.
Style and closet organisation doesn't seem that hard of a task, but sometimes we get to it and once we've put in our minds that we are clearing out, we end up keeping more than ridding ourselves of it. Again, we're human, we like things, especially pretty things that bring us joy. But really, in making sure of our own style even down to our basics, will help us have clearer wardrobes, minds and more in the bank account - you know I mean it on that last one. It'll give us a chance to start investing in what we buy rather than just spending on the fast fashion that we are inundated with.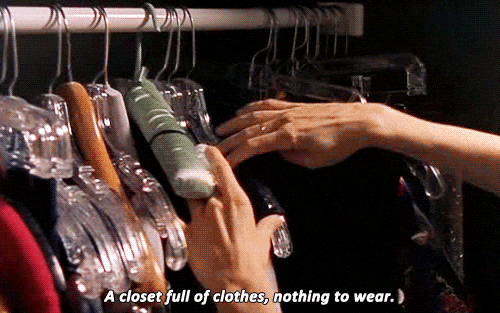 IMAGE CREDIT: THEODYESSYONLINE / HBO
Doing this kind of style declutter will help you have more space for the things that you've maybe been saving up for or putting on your wishlist. It'll give you more space to invest in pieces for Summer maybe, or even Winter. It'll give you something to look forward to as well as help you make better decisions in how and what you purchase. Plus, you may already have fantastic pieces in your wardrobe that make you think, "why have I bought new pieces that I'm not really that fond of when I have something like this?" You might actually find that you don't need to spend as much and rewearing something is not a crime!
Personally, though it can be a tedious task, I enjoy clearing out my wardrobe and figuring out my signature style because then I know I won't make the mistake of buying something that doesn't suit me at all. I've done that over the past few years and I think I know my style far better now. So take the time to look at your wardrobe, you never know what you might find hiding in there.
Sending you lots of love and hoping you're staying safe!